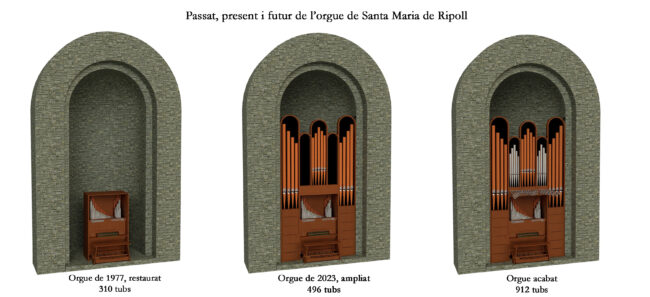 The wear and serious damage to the cork throughout the organ built in 1977 required the replacement of most of its parts. For this reason, the organ was moved to our workshop where it was completely disassembled.
Each part was given the necessary treatment. Many were reproduced from identical parts but with cork-resistant materials, and the rest were cleaned and treated.
At the same time, it was decided to expand Gabriel Blancafort's instrument, taking advantage of the fact that we had it in our assembly room, with the aim of achieving an organ that would go from 270 pipes to 912, and from 6 registers to 16 .For budgetary reasons, the entire project could not be tackled, and we focused on expanding the box, a cedar wood piece of furniture according to a design presented in 2013.
During the course of the work, several donations appeared, such as the 13 copper pipes on the facade donated by the parish of Santa Maria del Pi (which came from the old organ of the Monastery of Poblet), the secrets of the major and pedal organ and the inner tubes of the Flautat 8′ register, donated by Blancafort OM, and the Tremolo, donated by the organist Modest Moreno.
All this encouraged the addition of the elements of the mechanics of notes and registers of the major organ and a new air supply system. In these conditions, the instrument is ready to be completed gradually, with the assembly of the missing tubes, but it will not have to return to the workshop.
Therefore, the organ that we bless today is not complete… it has only 7 of the 16 planned registers.
We hope that very soon we will have the organ finished, to fill this noble space of the Monastery of Ripoll with music.