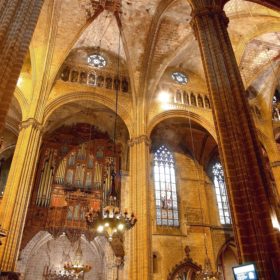 It is the largest and most important historical organ in Catalonia.
This instrument has been leading the Catalan school since the 15th century, It will last until the 19th century and is characterized by its lateral location close to the choir, with a larger organ often 16 feet and a 4 'positive, with a flat facade, with large painted doors. The largest facade tubes always on the sides, diatonic windchests and generally whole stops.
The history of the current organ of the Cathedral of Barcelona begins on June 5, 1538, the date when the contract for a new organ was signed between the chapter of the headquarters and the organbuilder Pere Flamenc, and Antoni Carbonell
From the latter all the carving and cabinet work of the case and the grandstand and of the Flamenc master remain most of the fluttering of the face and a considerable part of tubes; are the original elements of this organ that has turned 480 years ago.
The organ has been rebuilt on various occasions, adapting to the successive aesthetic changes of music and liturgy, as well as the technical advances of the organ organ, which have transformed the initially Renaissance instrument into a baroque one (1700), later on a romantic instrument (1935), and now a neo-baroque organ. The main historical landmarks, with their authors, can be summarized thus: